Welcome to my website. Finally I've managed to properly set it up in English.
Links and details to my already published books will follow shortly. Meanwhile, feel free to go and check them out at your favorite online story.
My most recent publication: Firefighter Dressed Wrong.
The scent of fresh-cut grass fills the evening air. Warmth from the day caresses naked shoulders. Sore muscles, the remainder of hard work in the allotment gardens.
Shirley yawns, thoroughly tired from the day, helping her friend. Work kept her thoughts away from the betrayal of her former boyfriend.
Fear from males. A child in distress. A threat ready to destroy Shirley's hard won peace. Can she overcome the struggles? Read "Firefighter dressed wrong" and find out.
My first, English story published: The Curses of multiple Operating Systems.
Violet, writer in her own right, polished her first story. Satisfied she wishes to publish the tale.
Her gaming keyboard with the red, blue and green lights surrounding each key helps little to reach her goal. Instead, together with her hard chair, it keeps her from throwing the computer out of the window.
If only the operating systems cooperated. Violet fumes with anger. Stupid closed source programs.
A world. Cut into pieces by uncooperating software systems. A girl with a dream. An obstacle to keep it out of reach. Read now the tale of "The Curses of Operating Systems".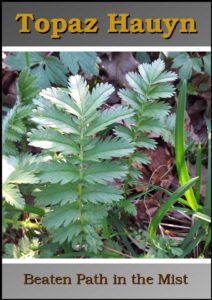 Coming soon: Beaten Path in the Mist. An urban fantasy story.
Ben loves to work out. Preferably with a good hike in the morning through the woods. Without the stinking city smells.
Partly visible, his usual beaten path, vanishes in the morning mist. To the side the stems of the beeches peek through the mist. Leaves rustle in the wind high above Ben.
One day he would find out more about the other pathes in this forest. But not today. Today his thoughts are already at work.
A short story about a man of habits. Habits turned upside down by fairy Arilia, punishing Ben.
I'm thrilled to present you those first stories of mine. I hope you enjoy them as much as I did writing them.